SPEED SHOW: while loop is true
27th of April 2011, Chicago, USA
Curated by Jon Cates
[ http://speedshowchicago.tumblr.com/program ]
—————————————————————-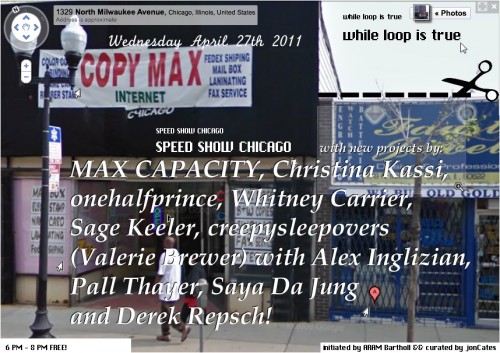 !!!ANNOUNCING:
SPEED SHOW CHICAGO: "while loop is true"
http://on.fb.me/dFsKG6
WITH NEW PROJECTS BY: MAX CAPACITY, Christina Kassi, onehalfprince, Whitney Carrier, Sage Keeler, creepysleepovers (Valerie Brewer) with Alex Inglizian, Pall Thayer, Saya Da Jung and Derek Repsch!
Wednesday April 27th 2011
6 PM – 8 PM
FREE!
'
@
COPYMAX
1321 N Milwaukee Ave
Chicago IL
60622
'
Berlin-based artist/curator ARAM Bartholl initiated an ongoing series of exhibitions of New Media, Digital + web-based art called SPEED SHOWS. starting in the summer of 2010, SPEED SHOWS have been held in Berlin, Vienna, Amsterdam, Paris, NYC + now Chicago! Chicago's SPEED SHOW is curated by jonCates:
SEE YOU THERE!!!
————————————————————
Documentation:
INTRO:
im super excited to be curating the "SPEED SHOW: while loop is true" Chicago's 1RST SPEED SHOW! :)  in the summer of 2010, the 1rst SPEED SHOW happened in Berlin + i was involved as an exhibiting artist. i was able to goto the show + met ppl IRL who i had known online as well as mtg old + new (media art) friends. i attended the following SPEED SHOW in Vienna, which was similarly awesum. + then when the SPEED SHOW came to the US i was also involved as an exhibiting artist in the NYC show. now, crossing over from artist to curator of Chicago's SPEED SHOW, on ARAM's invitation, im happy to share new works by sum young emerging, well-known + tumblr-famous artists.
the theme of this exhibtion, "while loop is true" refers to looping in New Media. Digital Art has a few special qualities, including the fact that looping is a programmatic feature utilized in computing. looping is also an option or even a default state for file playback. digital audio technologies preceded the ubiquity of other digital media forms (such as video) + therefore, in many ways, established certain standards or approaches such as sampling + remix. experimental and Electronic Music often relies on looping (from tape loops to sample banks, etc…) + New Media Art forms are inspired by these technocultural aestheticonceptechniques.
the works in this exhibition engage these background issues against the backdrop of Chicago's Loop, the skyline downtown + the pathways of the trains that encircle our city center.
this exhibition is also a mixtape, in which i have paired web-based art works with tracks by musicians, all of whom i follow online. i have also made a literal limited edition mixtape for those of you who have come out to the event. i follow Little White Earbuds' Curator's Cuts series (a podcast of electronic music) + i appreciate their way of deploying ideas of curating mixtapes. for the mix that i have curated in this exhibition, the the physical cassette tapes have the mix forwards on side A + backwards on side B. this is a limited run (of a potentially unlimited format) of 18 (9 x 2, forwards && backwards).
Jon Cates 2011
[go to http://speedshowchicago.tumblr.com/ to check out the gif music mixes]
MIXTAPE/INSTALLATION NOTES:
00. RMQNAK1281772466 – MAX CAPACITY (2011)http://maxcapacity.tumblr.com/post/951497652/
WITH:
White Man Comes – Farson's Army
http://soundcloud.com/farsons-army/white-man-comes
01. tak3 my br3ath away – Christina Kassi (2011)
http://eosforos.tumblr.com/post/4433324557/tak3-my-br3ath-away
WITH:
Folded Promises – Message To The Machine
http://soundcloud.com/message-to-the-machine/folded-promises
02. tags: black and white creepy gif hands mine – onehalfprince (2011)
http://onehalfprince.tumblr.com/post/3994845504
WITH:
|_| & /\/\3 –  Strange Powers – MMMMMMMM
http://soundcloud.com/mmmmmmmm/3-1
03. (UNTITLED ANIMATED GIF) – Whitney Carrier (2011)
http://sugarsickness.tumblr.com/post/4404809548
Drop to zero – Mood Guerilla
http://soundcloud.com/mood-guerilla/drop-to-zero
04. R E A L _ L I F E _ P R O B L E M S – Sage Keeler (2011)
http://members.cox.net/hodkel/real_life_problems.gif
WITH:
Hell is Other People – Clique Talk
http://soundcloud.com/cliquetalk/hell-is-other-people-single-mix
05. fullscreen – creepysleepovers (Valerie Brewer) with Alex Inglizian (2008)
http://www.youtube.com/watch?v=o4SZ-9Wcw2s
WITH:
Only Windows 98 Sounds- coax
http://soundcloud.com/coax/only-windows-98-sounds-ambient-type-song
06. The end of the world – Pall Thayer (2010)
http://pallit.lhi.is/microcodes/contr.php?code_id=54
WITH:
Venlafaxine dreams – lungbutter
http://soundcloud.com/lungbutter13/venlafaxine-dreams
07. Who Am I?: Split Self – Saya Da Jung (2002)
http://vimeo.com/22273256
WITH:
Microseq "#008000" – Microseq
http://soundcloud.com/microseq/008000i/
08. "Homage to Frank, or HEY STEVE ITS OVER IM GOING BACK TO t9" – Derek Repsch (2011)
http://vimeo.com/22878604
WITH:
Dark Dungeon – MICRO N▲PS
http://soundcloud.com/micronaps/dark-dungeon
Supported by the Berlin Senate Cultural Affairs Department