SPEED SHOW vol.5: 'Open Internet'
13th of January 2011, Paris, France
Curated by Aram Bartholl, Marie Lechner & Anne Roquigny
————————————————————————
The SPEED SHOW series is coming to Paris! It'll be awesome! We will rock the place and on top we'll kill the night with a F.A.T. lab after party at Le dune! Spread the news! Bring all your friends! Book your flight today!
SPEED SHOW vol.5: 'Open Internet'
Welat Internetcafe
12 Rue d'Enghien, Paris (G-map)
13th January  2011
7:00-11:00 PM

F.A.T. lab after party at
Le dune cafe http://www.ledune.fr
18 avenue claude vellefaux, Paris


Curated and produced by:
Aram Bartholl, Marie Lechner & Anne Roquigny
Participating artists:
Anonymous, Jean-Baptiste Bayle, Christophe Bruno & Samuel Tronçon, Claude Closky, Marika Dermineur, Caroline Delieutraz, Constant Dullaart, JODI, Jérôme Joy, Tobias Leingruber, Aymeric Mansoux & Dave Griffiths & Marloes de Valk, Albertine Meunier, Geraldine Juarez feat. M.I.A., Evan Roth, Systaime, VideOdrome mailing list, La Quadrature du Net (Jérémie Zimmermann)
Open Internet
2010 showed the full scale beauty of open Internet culture. Governments and industrial lobbies are trying more than ever to establish new regulations and tools to control the net. The Internet must stay open and neutral! Avoid being shut down by government and make sure your (online-) life or business is not dependant on a single large company or governmental restrictions. It is important to keep rethinking net structures to escape from the mainstream social vortex which is incapable of reflecting on itself. Internet art and net subcultures play an important role in questioning and deconstructing everyday web defaultism and global, digital industries.
We are very pleased to present an exquisite selection of internationally-known artists at SPEED SHOW vol.5 'Open Internet' – Paris. A wide range of brand new art works created especially for 'Open Internet' discuss the current impact of Internet pop culture, open source, minimal amateur and radical options of the Open Internet. A combination of excellent Paris-based, internationally-know artists and restless Open Internet advocates form the perfect base for a promising opening night at the awesome Welat cyber cafe Paris.
Aram Bartholl 2011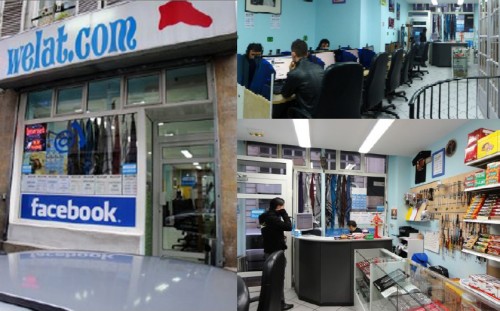 All prior Speed Shows documented here fffff.at/speed-show
The SPEED SHOW exhibition format:
Hit an Internet-cafe, rent all computers they have and run a show on them for one night. All art works of the participating artists need to be on-line (not necessarily public) and are shown in a typical browser with standard plug-ins. Performance and life pieces may also use pre-installed communication programs (instant messaging, VOIP, video chat etc). Custom software (except browser add-ons) or off-line files are not permitted. Any creative physical modification to Internet cafe itself is not allowed. The show is public and takes place during normal opening hours of the Internet cafe/shop. All visitors are welcome to join the opening, enjoy the art (and to check their email.)
SPEED SHOW manifest by Aram Bartholl 2010
'
---
Docu:
---
SPEED SHOW vol.5: 'Open Internet' last thursday in Paris was sick!
Thx to everyone! Thx to all the artists! Thx to Anne Roquigny and Marie Lechner for invitation and collaboration!!! Love Paris! ( I'll be back in may giving a talk at promising Gaite Lyrique!)
Full program and all links below!
SPEED SHOW vol.5:'Open Internet' – Paris from aram bartholl on Vimeo.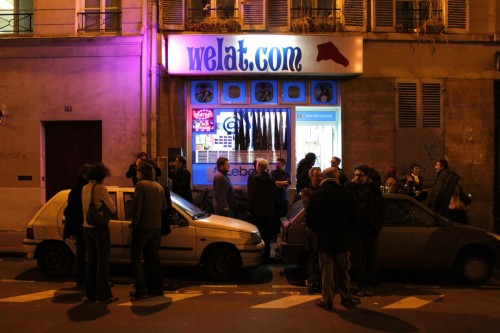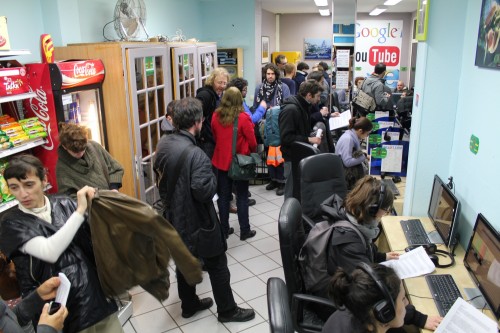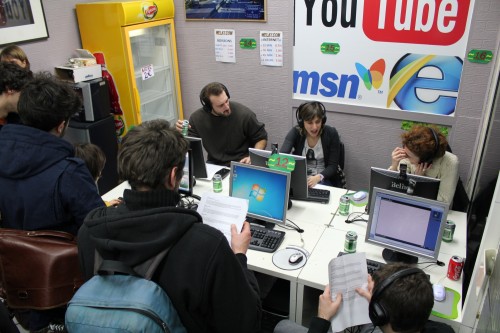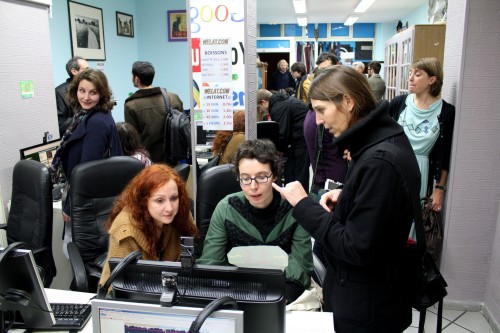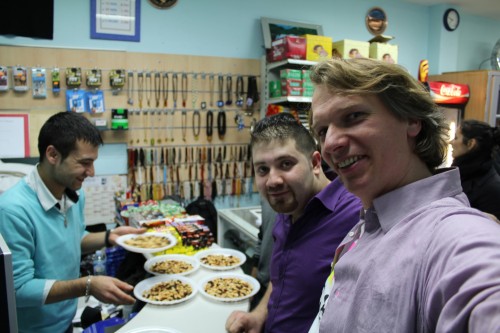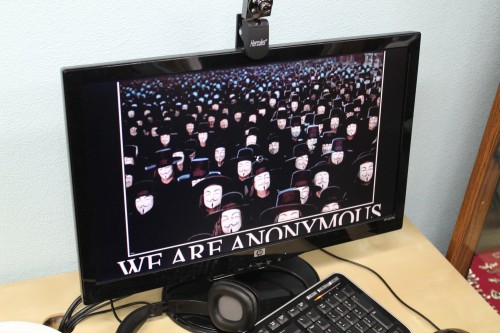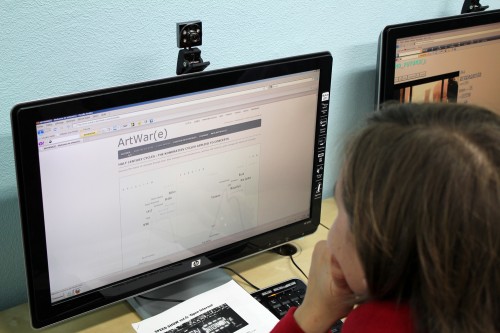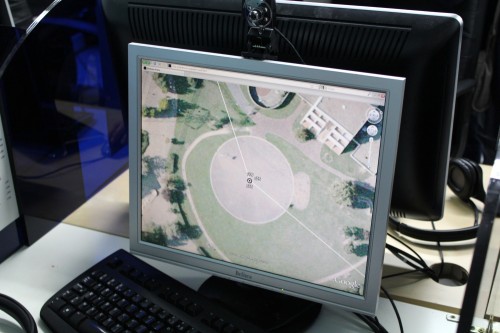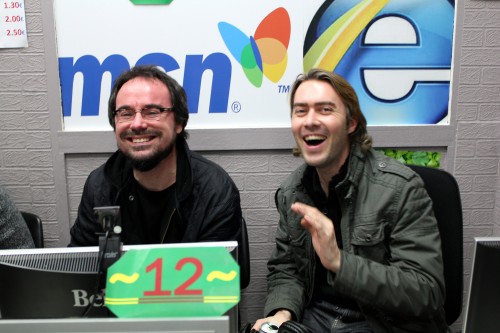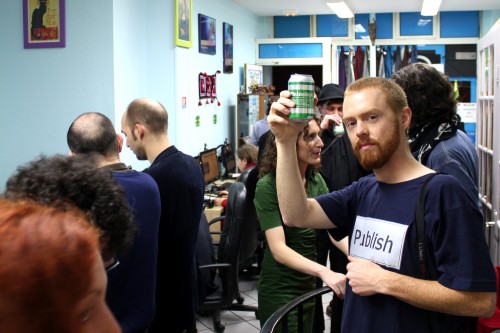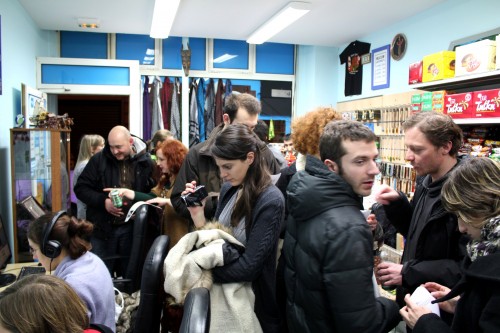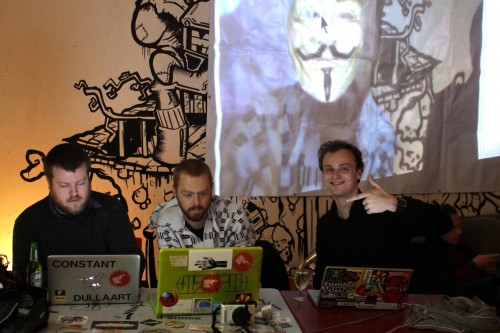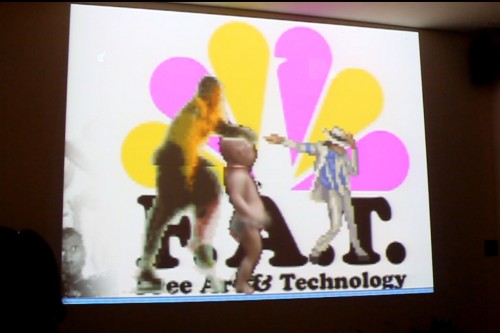 Participating artists :
OPERATION BLING
Anonymous
2011
Anonymous is a label adopted by anarchistic amalgamations of hacktivists and 4chan users who undertake protests and other actions under the notional title "Anonymous," It is generally considered to be a blanket term for members of certain Internet subcultures. OPERATION BLING is a call to protest against censorship by Governments and global players in regard to the recent events realted to Wikileaks etc. "Write down 'You are anonymous!' on all you paper money and let the system do the work!'
No Future
Jean-Baptiste Bayle
2010
NO FUTURE ! NO LIFE ! FUCK CYBORGS ! FUCK GOOGLE ! FUCK 3D ! DEATH TO RAY KURZWEIL ! WE ARE THE CHIMPS ! MEDIUM IS NO MESSAGE ! NOFUTURE IS NOW !
"NF was born in 2010, 10 years after the future, 100 years after futurism. In a world where apathy, corruption, and reinforced property rights give shape and substance to the widespread sacking of fundamental human rights, no-futurism seeks to foster a new radicalism, capable of resisting the « technological bluff ». NF uses a collection of television news clips (http://www.nofuture.biz ), a twitter "nonitoring" journal (http://paper.li/n0_futur3), and a critical cartography of « decolonized counter-imagination, » to deconstruct the disinformation techniques and the propaganda spectacle.
Jean Baptiste Bayle is an artist, a inactivist and an bricodeur. He opposes the concept of "downgrade" to the permanent "upgrade" which fuels the digital economy, in an attempt to resist the madness of useless technology, to think imagine an alternative to ownership systems, and, by sharing free knowledge, to build the future collectively.
ArtWar(e)
Christophe Bruno et Samuel Tronçon
2010
Artwar(e) is an « artistic risk management » platform whose aim is to use the latest marketing concepts, such as the "hype cycle," to reformulate art history, performance and relational attitudes, as well as curating practices.
Christophe Bruno offers a critical approach to network and globalization phenomena in the realms of language and image. He has been awarded for the Google Adwords Happening (at Ars Electronica) and for Human Browser. Starting in March 2011, he will work as chief curator for the Jeu de Paume's virtual space.
Future-Past
Claude Closky
2010
Well know for his ongoing series of minimal single web page pieces Claude Closky confronts the user with the question of the future and past in an endless diagram chart. How much time is left? What happend in the past? Why is there so little future? Very basic questions of society and mankind are condensed in the most default chart diagram of the stereotype statistic powerpoint language. Is there an underlying rule deciding on your future or past?
Le Monde.fr
Marika Dermineur
2010
The Monde.fr internet site diverts pages from France's newspaper of reference, Le Monde. Thanks to a mirror site, the surfer can replace any word of the original site with another word. The piece investigates media vocabulary, and the impact of words, expressions and news trends. The artist Marika Dermineur, co-writer of Google House, is building a house in real time from images and rooms found on the internet. She is a member of the Rybn collective, helps lead Upgrade! Paris, and is an exhibition curator whose recent Politique 0 was shown at the Niemeyer Center, the headquarters of the French communist party.
Blue meme
Caroline Delieutraz
2010
From the Zotriens of Ulysses 31 to Avatar's Na'vi, from the giant blue Draags of the Savage Planet to Tron's "programs," the hypnotically morphing blue humanoid faces fade and flow. Caroline Delieutraz takes these characters out of their home universe, and places them in a shared fictional world. "These specimens of the bizarre. half human, half other (animal, alien, robot, etc.) represent alterity. Here, they make up a kind of continuously self-perpetuating community of hybrid beings." Caroline Delieutraz investigates digital identity and cartographic conventions. As a member of the Microtruc collective (http://microtruc.net/), currently invited by the Jeu de Paume's virtual space she invents systems that navigate between the real and the virtual.
thesleepinginternet.com
Constant Dullaart
2011
In his ongoing series of the attributed Internet (thedisagreeinginternet.com or therevolvinginternet.com etc.) Constant Dullaart raises the question of the personality of the Internet. Through minimal iframe interventions the Internet seems to be in a human condition and gains even emotions sometimes. The ever light almost transparent Google search page (which became by massive unconscious use heavy like rock in our mind) is defaced in playfull code shifting leading to reconsider our expectations of the Internet.
GG/Paris
JODI
2011
The artist duo JODI is very well know for their constant work in deconstructing software and online systems for the last two decades. The endless database and open API s from services like Google Maps/Earth bare an endless variety of unforeseeable visual expression. JODIs Geogoo series started with random Google Maps icon mash-ups scattered over the globe and now opened in a automated Google streetview journeys. A machine controlled, very mechanic tour of Paris reinterprets the Google satellite images in unexpected micro repetitive way.
Nocinema
Jérôme Joy et le collectif nocinema.org
2011 (nouvelle version)
Nocinema.org uses live webcam feeds to transport viewers to the four corners of the planet. Nocinema.org is an impressive road movie that is generated live, on line, whose soundtrack is mixed in real time, using a continuously updated sound data base. This unpredictable fiction/documentary has neither beginning nor end, neither actors nor storyline, aside from the stories viewers piece together as they watch the live stream of images and sounds.
The application was written by the composer Jérôme Joy to explore network music. He is co-research director at Locus Sonus, a sound art research laboratory.
Facebook Resistance
Tobias Leingruber
2011
"Facebook is becoming the dominant system for our social identities, they set the rules of how-to behave, so we're asking: Are we happy living in their visualisation of our online identity or do we want to change it? A change can be as trivial as adding a background-image. Facebook designing your online identity is like IKEA designing your appartment. The only individuality lies in the family pictures standing in your BILLY shelves.Facebook Resistance is a research initiative accepting the status quo of Facebook beeing the dominant online identity management system, researching on ways to change it's rules from inside the system, locally via Firefox add-on. " TL
Naked on Pluto
Aymeric Mansoux / Dave Griffiths / Marloes de Valk
2010
Naked on pluto is a Multiplayer Text Adventure Game on Facebook. You wake up on Pluto, Las Vegas of the solar system, true paradise for consumers and entertainment corporations.Amuse yourself and your friends for hours on end collecting meaningless tokens, talking to our bland robots, or simply relax and take in the staggering conformity of your new home. You can not escape this world but why would you possibly want to, it has been taylored to fit your every desire. The game explores the limits and nature of social networks from within. Story and play are combined with an investigation on how exposed we are on social networks, and how our data are being used. The project is licensed GNU. The artists, Aymeric Mansoux, Marloes de Valk et Dave Griffiths are all involved in the promotion of free software. The research can be followed at http://pluto.kuri.mu
Tea Time with Albertine
Albertine Meunier
2009
Ask them what a hacker is, or a flash mob or spam, a smiley or an octet, and these ladies will get it right every time. What Dédée, Dolorès, Gisèle, Annick and Jacqueline all have in common is that they are all over 80 years old, and had never touched an computer before in their lives, that is, until they discovered the Tea Time with Albertine workshop, led by netartist Albertine Meunier since March 2008. Every two weeks, in Paris, Tea Time with Albertine initiates senior citizens to the Web. For each new concept they discover, they record a film which goes into an internet glossary.
Albertine Meunier has been on the net since 1998. Among other things, she has worked on privacy issues, and the use of personal information (My google search history is an inventory of all her searches over the last three years).
VICKILEEKX.FFFFF.AT
M.I.A. Mixtape mirror de Geraldine Juarez
2011
"Recent events show us that information is notoriously difficult to contain and can easily be mirrored anywhere. Now F.A.T is using the same principles to keep M.I.A's Vickileekx Mix freely accessible to everyone, plus we don't even ask for your email! *To download the data retentive version of this mix, please visit M_I_A's VickiLeekx.com and submit your email to the man." GJ
Mashed Up Mashup
Evan Roth
2011
Well known for his pop culture – free software crossover style, Evan Roth remixes two GirlTalk albums, which are music sample mashups in themsevles, to make the ultimate "mashup" album. Sampling and remixing has a long history in music, especially hip hop culture, and in the era of the net has become the supreme discipline. Mashed Up Mashup is a perfect multilayered representation of the current state of copyright and open licence mix mess on the Internet.
My facebooklife
Systaime
2011
Michaël Borras a.k.a Systaime… a regular by-product of digital culture, the kind that re-shuffles our identity cards and our relationship to the world. An internet trouble maker. he remixes the flows, lacerates the powerful and the imposters, highlighting our media dependence to the media. With My facebooklife the very formated interface of Facebook is daily perverted and the social network is mutating everyday.
VideOdrome
VideOdrome Mailing List
2010-11
« Shh, not a word, videospam only ». videOdrome is a mailing list whose participants communicate exclusively using videos picked up on the web. Once you've signed up to the mysterious list (http://lists.machineaecrire.com/mailman/listinfo/videodrome), Videodrome unleashes an endless flow of seditious images into your inbox to seize your pupils and fill your available brain time with the stunning video vortex spectacle that is YouTube and its shoot'em down grandmas, its Tourette's karaoke, its porn Olympics, its wood fires and other "Sarkoseries."
Robocopyright ACTA
La Quadrature du net (Jérémie Zimmermann)
2010
La Quadrature du Net is an advocacy group that promotes the rights and freedoms of citizens on the Internet. More specifically, it advocates for the adaptation of French and European legislations to respect the founding principles of the Internet, most notably the free circulation of knowledge. As such, La Quadrature du Net engages in public-policy debates concerning, for instance, freedom of expression, copyright, regulation of telecommunications and online privacy.